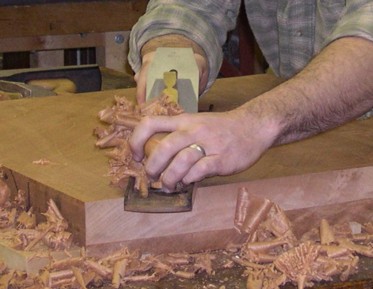 My mission is to provide the highest quality furniture and architectural millwork, utilizing traditional design and construction techniques, with the finest materials.
Each commission is individually hand crafted to the customer's specification. The lumber is selected for color and grain before being cut in order to complement the overall appearance. Traditional joinery such as mortise and tenon, bridle joints, and hand cut dovetails are used throughout construction to ensure durability, longevity, and heirloom quality. Much of the work is done using hand tools which imparts a uniqueness and value that set each piece apart from any other.
As a full service cabinetmaker, I am pleased to offer the following services:

Furniture and chair making
Design service and scale drawings
Architectural elements and millwork
Hand carving and turnings
Furniture maintenance, cleaning, and repair
A representation of my work can be found in the portfolio on this site. Please contact me at the shop should you desire a custom piece, a reproduction to compliment an existing set, or have an idea you would like to discuss. I look forward to working with you.
Sincerely,
J. P. Klosek